Israel's military says it has struck targets linked to the Palestinian militant group Hamas inside Lebanon and across the Gaza Strip. The attacks come after a major rocket barrage on Israel from Lebanon, which the Israelis blamed on Hamas.
The Israel Defense Forces (IDF) said Hamas' "terrorist" infrastructure was hit in southern Lebanon.
Tensions are high after Israeli police raided Jerusalem's al-Aqsa mosque on consecutive nights earlier this week.
The mosque is Islam's third holiest site, and the Israeli raids have triggered violent confrontations with Palestinians inside and caused outrage in the wider region.
Hamas chief Ismail Haniyeh, who was in Lebanon when the rockets were launched, said Palestinians would not "sit with their arms crossed" in the face of Israeli aggression.
In a statement early on Friday, the IDF tweeted that it had truck targets "including terrorist infrastructures belonging to Hamas in southern Lebanon".
The IDF added that it would not allow Hamas to operate from Lebanon and held Lebanon "responsible for every directed fire emanating from its territory".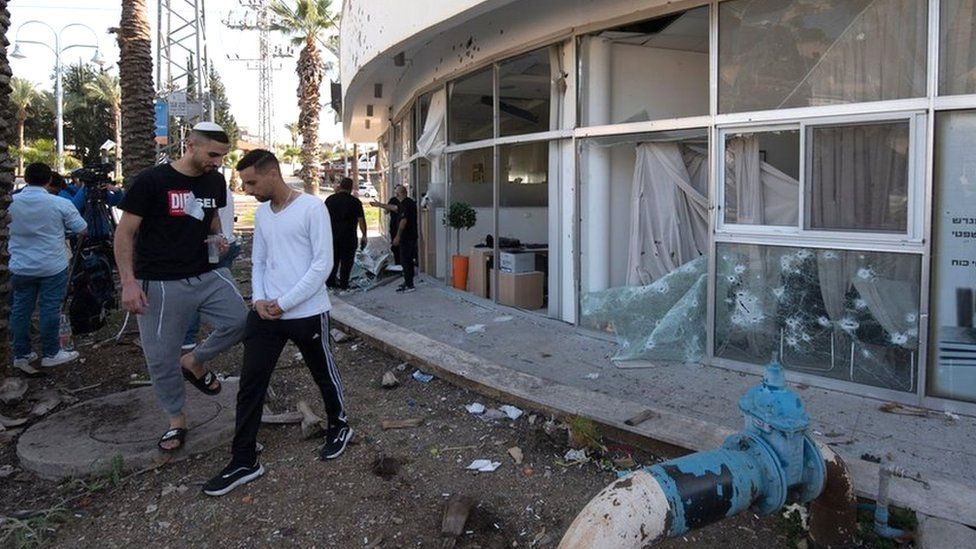 Hamas said it had no information about who fired the missiles from Lebanon on Thursday.
The attack was the biggest single barrage from Israel's northern neighbour in 17 years, with Israel reporting that most of the 34 rockets were intercepted – but that five caused damage to buildings.
Israeli warplanes also stepped up air strikes in Gaza, with around 20 missiles striking four new sites in 10 minutes. Palestinian militants also fired a new round of rockets at southern Israel, where warning sirens were heard sounding.
The Israeli jets attacked an underground weapons production site and three above-ground sites, the IDF spokesperson's unit was quoted as saying by the Jerusalem Post.
The Israeli airstrikes are said to be the heaviest since a round of fighting with Islamic Jihad in August 2022.
The Israeli response came after Prime Minister Benjamin Netanyahu held an urgent security cabinet meeting.
In a televised address, he said: "We will hit our enemies and they will pay a price for all acts of aggression." He also called for a calming of tensions, adding "We will act decisively against extremists who use violence".
Lebanese Prime Minister Najib Mikati condemned any military operations from the country's territory that "destabilise the situation".
The United Nations peacekeeping force in Lebanon, Unifil, said the situation was "extremely serious" and urged "restraint and to avoid further escalation".